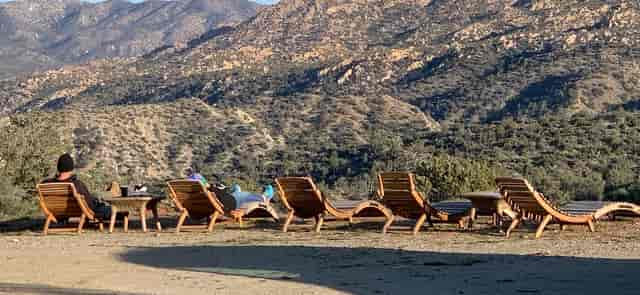 Socially Distant, But Never Alone
Socially Distant, But Never Alone
It's fair to say that have made a career out of being social. I have been in hospitality for just a few years now, but I have been entertaining and feeding people my whole life. I am a second generation Italian American, who grew up on the Southern California coast. For as long as I can remember, my family has brought my community together using food as a "calling". At my Nonna's house, this was a pot of sauce- you could smell lunch throughout the neighborhood and I would think about what we were going to eat all morning long as it bubbled over on the stove. In the afternoon, all the local Italians would come to my Nonna's house to eat. Tables would be pulled out of nowhere, flipped open and added as people arrived, and somehow there was always more than enough food for everyone.
Hers are the footsteps I have followed in, building a career in which family and food take precedence. Although my heart was born in a simmering pot of Italian flavors, I now own an American BBQ restaurant called "The Sugarloaf Cafe". Here in Pinyon we smoke meat right outside the restaurant, and hope that the smells of our kitchen call you out to eat with us on the weekends when we offer take out and local delivery.
Sales have been down overall since we began this period of Staying at Home. We are still open, but every day there are bills to pay and none of the historic sales to pay them with. With all my heart I want to reach out and promote to you. I want to shout from the hills to keep this business in operation, and at the same time I see the need to lay low. This is especially true on the weekends, as hoards of people depart the crowded cities and head for the hills. We offer the same foods we always have- handmade baked goods, local specialties, and BBQ - but now the remoteness of our location is actually a selling point- one I do not want to abuse. In a time where I have a very keen sense of responsibility to my community, I struggle to balance the desire for sales with the need for social distance and order. I want to welcome everyone who finds us - I want to make room at my own table, and treat you strangers like family. At the same time, I want to protect my physical community from visitors, and not encourage crowding. I believe that social distance is a necessary means to controlling the spread of COVID19, but the "correct" way to act is simply contrary to my personal ethos. Everything is a challenge. Everything takes longer. Patience. Breathe.
I have become so dedicated to finding balance that I have removed all seating areas near the patio, so that our guests are not tempted to gather in crowds. I made our picnic tables available for use in the rear landscape- far away from the road and each other. In doing so I hope to move people to the edges of the earth, where they can sit for a few minutes, enjoy the view in nature, and eat with trusted friends and/or family. I cannot come out to chat, and I cannot serve you the way I always have. This offering is a good example of the "new social"- the way I can honor you the most is by distancing myself and my staff and others- from YOU. And then offering you something to eat.
Cheers to the New Ways; may we reflect always on the Old:
LOVE
Gabbi Rose
To Lead is to Serve, To Serve is to Love, And Love is EVERYTHING.